How to set up discount for social share popup?
Question: How to set up discount for social share popup?
Solution:
Step 1. Go to the Shopify app store and add social share app.
Step 2. Install application.
Step 3. When you Installed the app at your store, you will have the dashboard like –
Step 4. Click discount popup for share
Step 5. Click social share popup to enable a discount code you would like to offer to your customer. When your customer shares your store URL on their social handles.
Step 6.
Popup Settings:
Create display rules – You can set display rules when you want to show the sharing popup on your store.
1. Set cart value – When a customer adds certain value in the cart that is equal, less or greater than some amount than your share discount popup will show to your customer.
2. Set discount code – Insert the amount and discount code in the fields available in the app.
3. Create discount codes
Step .7 After creating discount codes in the app then you will able to enable app at your dashboard.
Step 8.
Popup button settings:
1. Insert button text and colour.
2. Select Button position
3. Select page, where you want to display social share popup.
Step 9. You can also edit the display social share popup and discount code offer.
Step 10. Check social media boxes that you want to show in your popup and click the save button.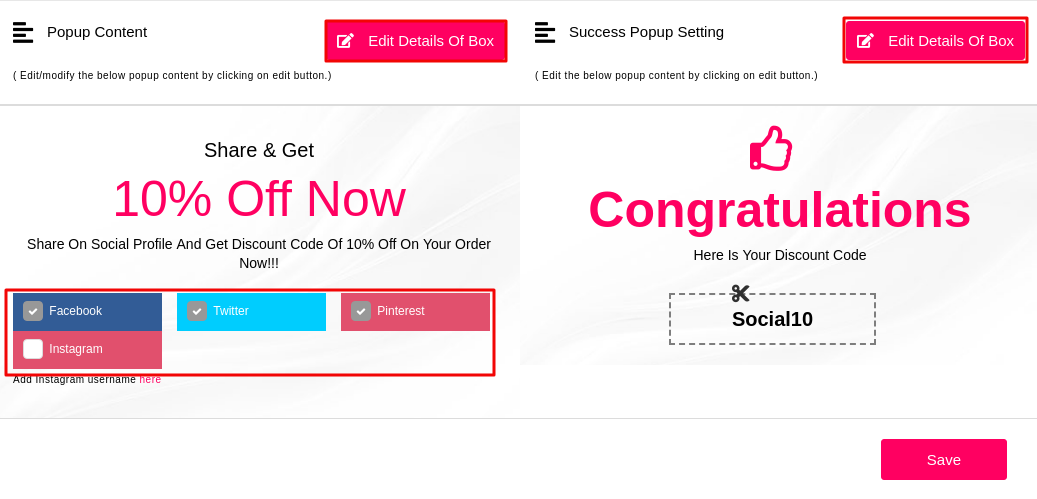 Previewing –
1. Social Share popup
2. The discount code will show to your customer when a customer shares your store to their social profiles.
After having the discount code, your customer can avail discount while purchasing a product from your store.