How does Gift Registry app works?
Question: How does Gift Registry app works?
Solution:
Customers can easily start creating registries which they can share with their friends and family. Below is the procedure for doing so –
1. An Add to registry button will appear on the product page and collection after integration(adding button short-code). Otherwise, the Gift Registry page can also be added in the store.
NOTE: Gift registry page URL can be "store_domain/apps/giftregistry"
2. When any customer clicks on Add to registry button, a pop-up will appear and ask customers to login/register.
3. If the user is a new customer and registers then they will have to create their registry by clicking the button Create Now available in the gift registry side drawer.
NOTE: Our app integrates with Shopify's existing customer accounts, so when someone creates a registry for the first time, they will also be creating a Shopify account on your store.
4. If any customer clicks on the Gift registry page link(if available on the website) then whey will get redirected directly.
5. In Gift Registry page three options are available –
i) Find – Using this, one user can search for the registry of any other user by adding their first name and last name.
ii) Create – It is mandatory to create the gift registry for adding products in it. One registry per user can be created.
iii) Manage –  Gift registry can be easily managed or edited.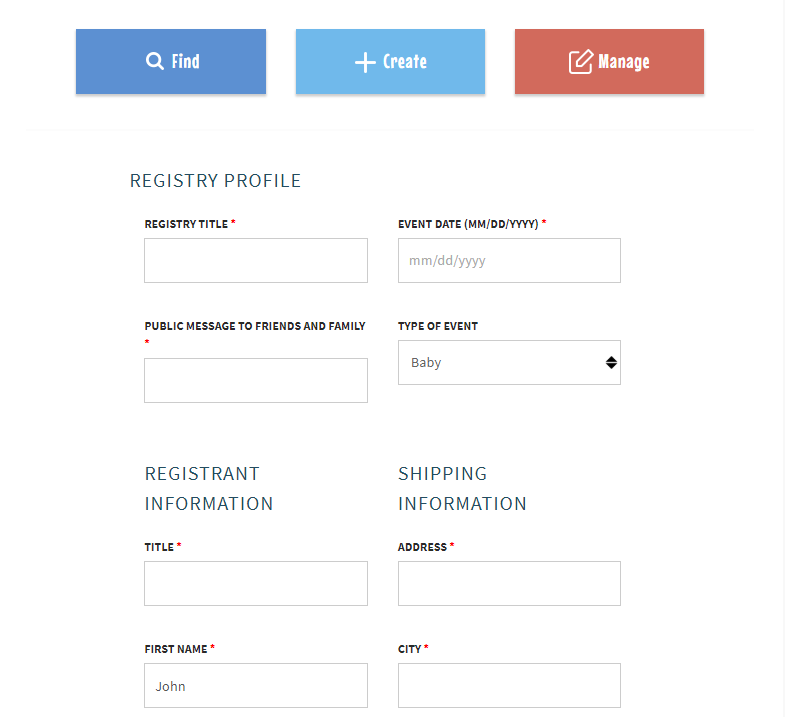 6. After creating a registry, it can be easily shared with anyone.