How to Install Sales Booster app?
Question: How to Install Sales Booster app?
Solution:
It's very easy to install Sales booster app on your store. You don't need any technical skills to set up the app.
Follow the instruction below to have this application.
Step 1: Go to the Shopify apps store and Install sales booster app.
Step 2: After having this 4in1 BOGO application at your store. You will find this 4 offer on the app dashboard that will help you to boost your sales.
BOGO offer & Discount: Bogo Offer helps you to set the offer on your store, Like buy X product and get Y product offers or discount codes shows on the checkout page.
Recommended Products: Using this option you can show your customer their recent view products, new arrival products, trending products, collection-based recommendation and one to one product recommendation.
Upsell Products: Upsell your products when a user adds a product to the cart. You can show similar products in popup based on the different unique conditions for each product.
Sales Notification: Real-time and manual sales order notification popup on your store.
You can have a look at other FAQ on the same page to set up any above offer on your store. If you find any difficulty to set up the offer or have any question. Please contact us and our support team will assist you quickly.
Step 3: Where to put Embed code in my Shopify theme, Got to the Shopify dashboard and navigate online option.
Then select an action and click edit code option.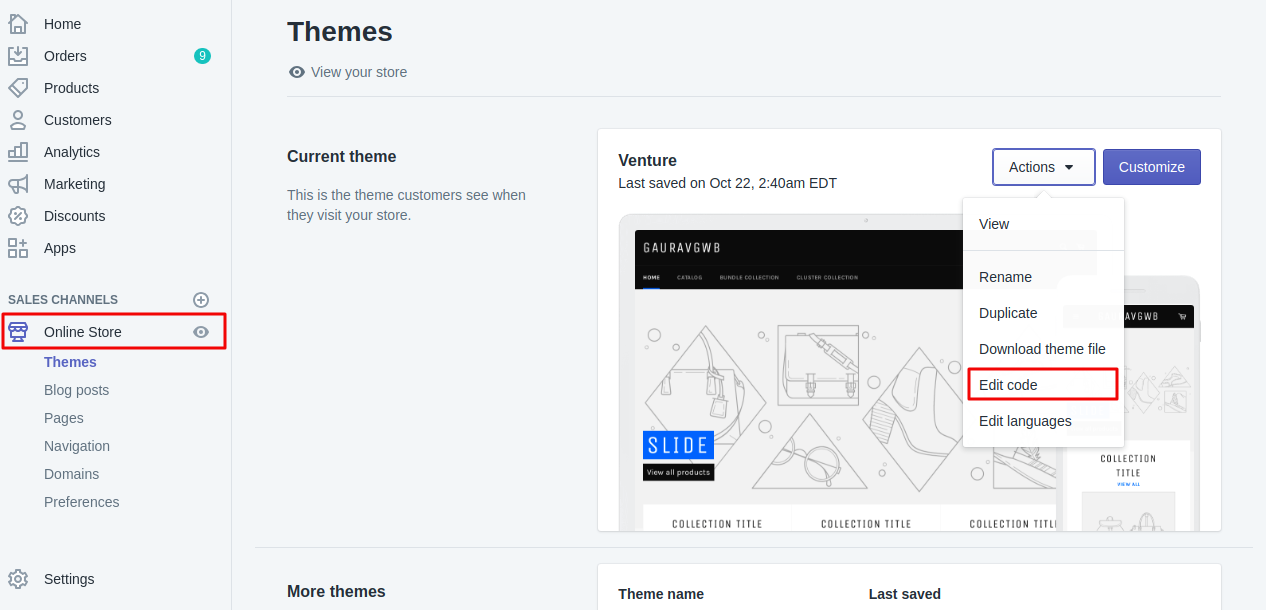 Step 4 Find Product.liquid and insert embed code If you want to show sales booster offer on the product page only or find a theme. liquid if you want to show offer on different pages. Insert embed code, wherever you want to show an offer on your store.